Uh.... Hey all, Scott- I mean, Rhythm Bastard here!
At least I've been busy!

ANIME IWAI RECAP

2018 was the last Anime Iwai I had an event every day, and it gives the downtime some kind of purpose when you have an event either later in the day, or just finished something. Most importantly, it gives me a guide to recapping the weekend that is both self-centered AND well-organized!
Friday, I had my concert, and while I'm loving my new setup with a tablet to control my backing tracks, I'm still getting used to it. Downside was that it was earlier on Friday, and when people are in line for 2+ hours for a local convention, people arriving on time end up being late. The smartest cons usually print out their badges beforehand, so that guests can come and pick it up later.
My acoustic song that set was "What's Up?" by 4 Non Blondes, from the trailer to Resident Evil: Welcome To Raccoon City, which released two weeks later, which ended up being a rushed mess that couldn't let me glom on to anybody. It felt like the movie was cutting between two different movies that happened to end at the same place, and left me with a sensation of "...What happened, there HAD to have been more..."
Saturday was the HCNCW Live event, Iwai-vor Series, with the winner getting to be in HCNCW canon, because we couldn't get a toy belt in time. Still, I forgot how INTO these games people can get. The crowd was going nuts every match for a 20+ year old Nintendo 64 Wrestling game, and there were no "well, i guess..." entrants. The final match was ALL women, and the winner ended up being Kayla of the 3000 Brigade!
Since she didn't know much about the game or wrestling, what we did instead was have a Kayla Canonization Match, where 8 characters she played throughout the span of the show fought in a Battle Royale match, which, even though she didn't know anything about wrestling, still had a fun time commentating with us!
I also finished my Thrash head, with his hair included! It was supposed to be a mohawk, but it ended somewhere between punk, greaser and scene, which yeah, it works!

Sunday was the Cosplay runway event, and I ALMOST didn't participate, but uh, we'll save that for the next section.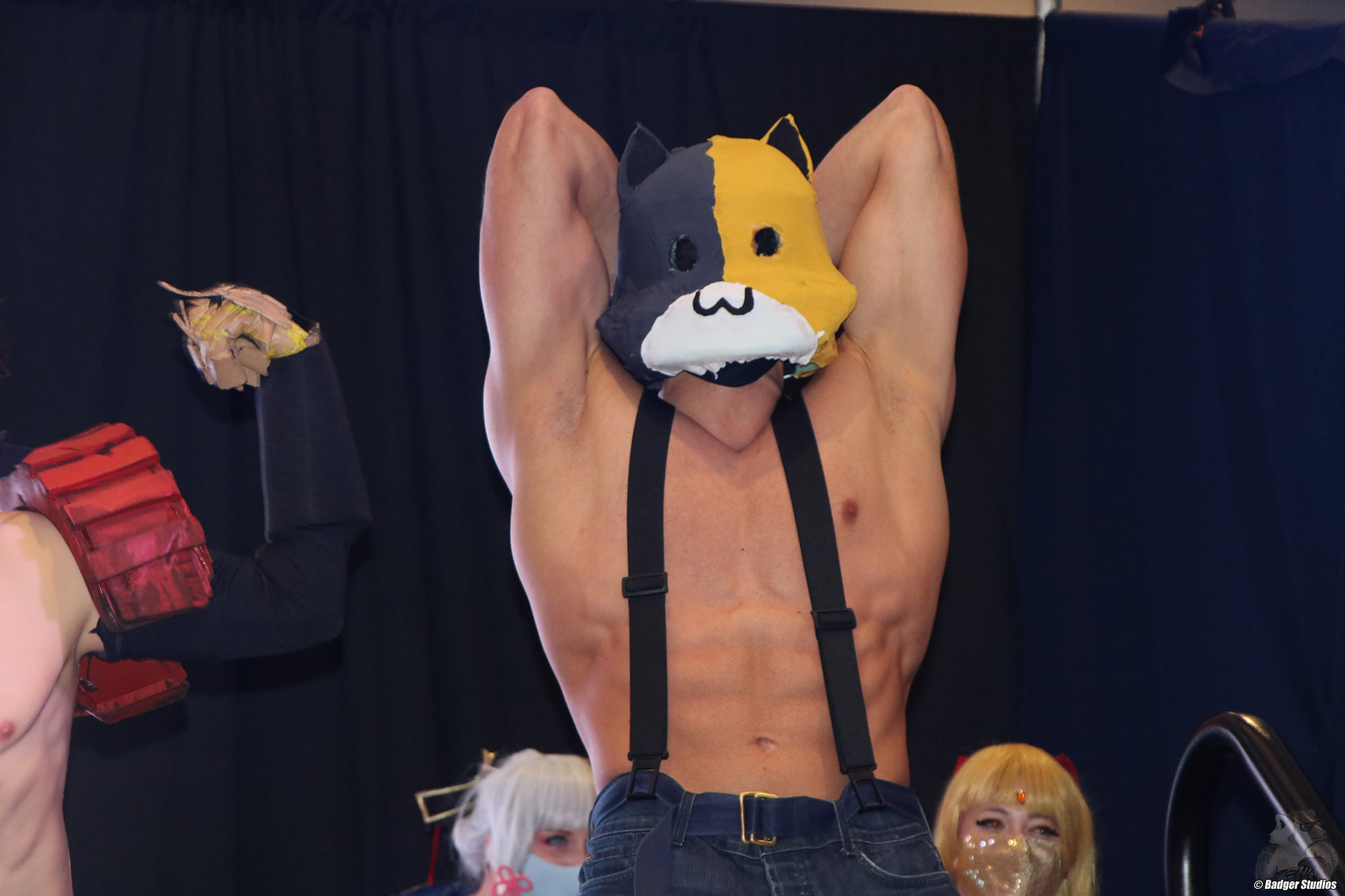 I went as Meowscles from Fortnite and despite not winning, I was clearly a fan favorite.
GOING VIRAL
So I'm on TikTok now, because at the aforementioned Cosplay Runway event, someone uploaded video of me flexing and put it on there, so now I'm like "WELL, I GUESS I'LL DO THIS THING". Still, the thirst got me through a VERY rough move.

OTAKUFEST
I'm playing Otakufest the weekend of Jan 15th and 16th! I've never been, but it looks like there's a lot of big guests and it's at the MACC, which it's been almost a couple years for me now, so I'm psyched to play again! AND only the weekend after...
MAGFEST!

Sadly, I'm not performing (yet), I'm going to be on staff. It was an opportunity I HAD to take to see everyone! I will also have a couple test burns of Hardcore Nerdcore Punk Rock on me, since that's nearing completion, but you'll be hearing about that VERY SOON.

I am helping with the Rock Band stage, so come by and say...

JAM OF THE WEEK: "Hello, Hello" by Trixie Mattel



I get the feeling that it's been so far between these things that I forget what I've talked about and how I've fallen down the RuPaul's Drag Race rabbit hole.

Anyway this is a song from Season 7 competitor, and All Stars 3 winner Trixie Mattel. I was linked her cover of Lana Del Ray's "Video Games" from my old partner, and she really turned it out. The arrangement felt lonelier and desperate than the original even though it had extra instrumentation and more going on. When you listen to her more country leaning work, it's clear there's this air of longing and desperation in her songs, which I WANT out of country music. When I think of country, I think of sparse, beautiful landscapes with no other human being around, and these people telling you a story that you

It's refreshing, but scary at the same time.
"Hello, Hello" is a mid-2000s alt rock jam, aka the kind of stuff I was learning to play when I started guitar, and it's just fun.

Trixie Mattel for Rock Band!