Better late than never! I'm 31! Wooo...
For me, 2018 was a year where I tried out a lot of stuff and it worked. As shitty as things were otherwise, and at times, I felt like I was just spinning my wheels, I have a better idea of what to do going forward.
The con front was quiet, but the few shows I did put on (Mini Iwai, Anime Iwai and Holiday Matsuri), went over very well, particularly because I've got my shenaniganing down pat. I've also put out quite a few songs out on Patreon, and managed to get to a few conventions I wasn't required to play at. Like, I can just hang out and shit.
So I have a better feeling going into 2019.
Here's to 10 More Years! Yeah, I've been at this for 10 Years.
MOST RECENT SONG: "Death's Blossom"
Youtube-
Soundcloud-
I JUST rendered the video and cover out today so I can have this for you guys. You're Welcome!
FAVORITE SONG I MADE: "Thrash Panda"
A song that's still Patron exclusive, but I feel REALLY good playing this song live. The ONLY reason I haven't dropped it yet is because I do want to make a cool piece of art to go along with it.
OTHER COOL SHIT I DID:
2017's 3000 Brigade Show is finally out!
This was a good one. I still have the Wii Fit Trainer stuff, in my closet.
2018's show was even better since I had more to do! Amanda if you're reading this I still have all of your acoutrements in my closet
I've also joined a DnD Campaign long time internet friend Luke Herr is running, which leads me into...
PODCAST STUFF:
RPG Pals Club
- By the time you read this, it'll be out for the public!
My character is Oi! A Drow Monk who chose the punk life over the underdark. So now he's a punk monk.
NOW HE'S A PUNK MON-
I'd Rather Not
- The last episode was... not fit for human consumption, but we're nearing on 100 episodes, so the shaningans will Pentuple!
TREND I LIKED THE LEAST: Coddling Bigotry Being A Cottage Industry
Oh, wait? That was last year? And it still persists this year since all social media companies worry about is "engagement", content be damned, since 4chan Nazis have nothing better to do all day than harass transgender people and other minorities?
TREND I LIKED THE LEAST PART 2: Articles About "Going Too Far
"
You know the trend: "SANTA SHOULD BE GENDER NEUTRAL!" "THEYBIES?" "EXACTLY ONE WOMAN WITH FEMINIST IN THEIR TWITTER BIO SAID A THING SO IT'S NEWS"
You've seen these articles a million times shared by friends on Facebook, usually accompanied by a "WTF?", and in the comments go something like "I'm not racist/sexist/hating on x group here, BUT..."
These stories serve a purpose to make you think that a certain marginalized group is going "too far" in the pursuit of equal rights. And when you have the fear of going "too far", its two fold:
1. You're afraid of anything being tried in the first place
2. It leaves the door open for someone more agreeable to the status quo to come in with an ineffective solution.
So the only response is to drag them to the main point kicking and screaming, "Well don't you think X should have the same rights as the rest of us?"
TREND I LIKED THE MOST: Furries Being The Comrades We All Need In This Shittastic World
This year's Internet Hero was not a man, but a fox.
A black, gay fox (everything Republicans hate) who was really, really good at fighting games.
Second place goes to a guy who shat on Elon Musk:
I've mentioned that the furry fandom/subculture is more creator focused than anime fandom, which means that is is decentralized, and all media considered "furry" is not produced by a singular entity. There may be pieces of media popular amongst furries, like Disney movies, Star Fox, etc., but the fandom itself owns the means of production, meaning it's
socialist as hell, which is a good thing.
Since there's no singular entity that produces the art, there's no reason for them to ignore bad actors in the name of profit. Video game and comics companies and the like can look at bullshit like Gamergate and Comicsgate and go, "Hey, their money's just as good as anyone else's!
But since the talent pool is widely distributed, and everything is done on a person to person basis, you can tell the Nazis to fuck off:
And yes, there are Nazifurs/Altfurries. When the entire pull of a fandom is "You don't have to be the default you", it can be a good, like a safer space for LGBTQ+ people to express themselves and feel more out (i.e. their fursona is a different gender than the person was assigned, sexuality is different, etc.). Or it can be a bad, meaning "Hey, I was kicked out of my usual group because I was a dipshit who kept making holocaust/attack helicopter/racist jokes, SURELY these people will accept me!"
As mentioned earlier, you can kick out the latter group. It's fine.
When you've been an internet punching bag for so long, you can either be a shittier person, or keep on keeping on and learn to be better on your own.
Same for the juggalos. LET'S COMBINE THE TWO, SHALL WE?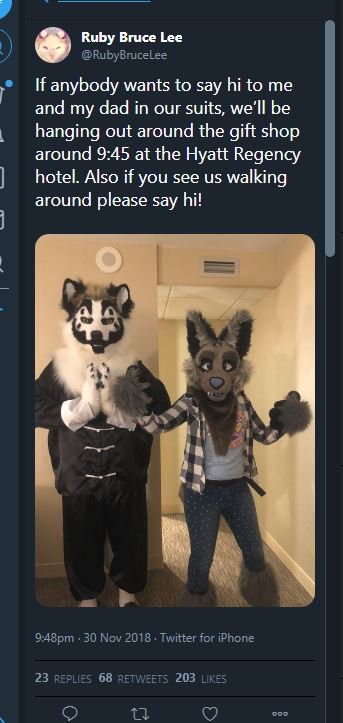 FAVORITE SONG OF 2018: "Make Me Feel" by Janelle Monae
So, the runner up for this was "She's Kerosene" by The Interrupters, but while that a lot of energy and I crank up it my car all the time, "Make Me Feel" wins out because it has sexiest buildup to any song ever, and of course, Janelle Monae at her most fun.
TOP 40 SONG I HATED THE LEAST: "Thank U, Next" by Ariana Grande
My thought process:
"Ugh, OK, like, I haven't listened to a lot of Top 40 Radio, so I guess 'Feel It Still' is in the running, but let's see what Todd In The Shadows thinks..."
"Thank U Next? That Ariana Grande song? It's a meme, but I'll give it a listen."
"DAMN THIS IS SO GOOD! Her voice is so soothing! And the song expresses a sentiment so unique! Haha! I wonder what movies I'd parody for my thank u next equivalent?"
THE "WHY DID NOBODY TELL ME ABOUT THIS SOONER?" AWARD: The Shadowrun Games by Harebrained Schemes
Shadowrun is a TTRPG setting that's basically when two designers didn't want to decide on making a cyperpunk game, or a fantasy game so they're like "FUCK IT, WE'LL DO BOTH!" and have a game where you can play as orcs who can cast magic and elves who can hack into shit.
Since 2013, Harebrained schemes have been making games based off the brand and have done so with X-Com style combat mixed with Neverwinter Nights style exploration, and while not very long, they've been fun to play and get into. Dragonfall is the best out of the three with a better story, and more connections to your usual shadowrunning squad.
GAME OF THE YEAR: See Above
ANNUAL REMINDER I SHARE A BIRTHDAY WITH MC BAT COMMANDER: