OH CRAP WE NEED TO LINK THE DOWNLOAD
-Courage The Cowardly Dog feels like creepypasta before creepypasta was a thing but creepypasta was still a thing.
one day i found a slab buyt then it got all foggy and a scary voice said RETRN THE SLAB but then i said 'what's your offer' and the voice said RETURN THE SLAB OR SUFFER MY CURSE and i said 'NO I WILL DEFY YOU' and then he threw bugs at my house and i said NO1 and i punched him in the face and
everyone was clapping for me.
except my brother who WAS DEAD ALL ALONG!!!1
-"Karaoke Bar In Hell" is the name of my shitcore cover band.
It's also the name of my "Cheers"-esque sitcom about demons who run a karaoke bar in hell. Thankfully, we only have to license three songs: "Livin' On A Prayer", "Let It Go" and "All I Want For Christmas Is You". There's silence anytime the demons are talking, but whenever you see things from the perspective of the damned....
"WHOA, WE'RE HALFWAAAAAY THEEERE, TURN AWAY AND SLAM THE DOOR for yoooooou...."
Then during sweep week: SATAN shows up! They've got to make the place good and torturous before the big guy (played by WWE Superstar Ryback) but guess who just died? MAROON 5's ADAM LEVINE, and he's ready to bust out some hot new grooves!
-Robot Hell, in both classic and SFM:
-10th Circle of Hell,
according to the Onion, will be sponsored by Blockbuster
... So, they REALLY wanted to make sure nothing else could be added then...
-Peas in Guacamole is such a non issue, I'm not going to talk about it.
-The article "
Rickrolling is sexist, racist and often transphobic in context"
has to be one of the greatest pop culture thinkpiece within the past decade, and it truly is worth a read.
It's important to notice these things, and while we can't blame ourselves for our ignorance- IT'S A FUCKING RICKROLL AND WE WAITED FIVE MINUTES FOR THAT SHIT
-XKCD Rickrolling comic: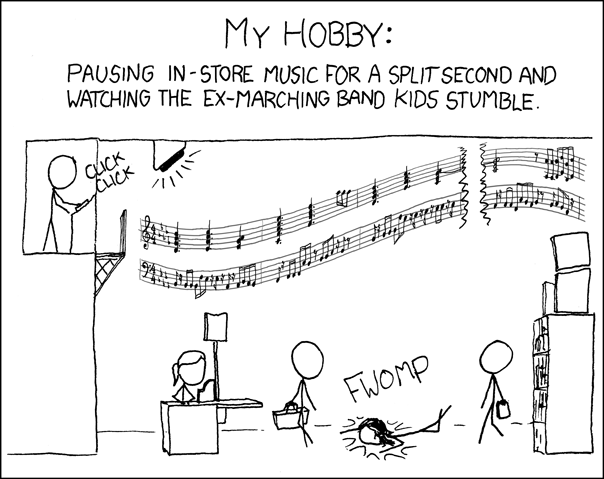 -Minion memes:
Because if I'm wasting the bandwidth, it's going to be with this shit.
FUCK YOU OWEN!!!
-Phantom Pregnancy is a very complicated phenomenon, where what would once be a strange occurance that would eventually fade away, is now reinforced by the Echo Chamber known as the internet.
-Married by a hipster shark. This is normally where I'd link the episode, and do a recap, but that episode isn't up yet, OWEN.
FUCK YOOOOOOOOOUUUUUUUU!!!!!!!!!
-Janelle Monae is one of those artists that you look at them, and think, "Yeah, that's exactly what I want to do!" Her music videos are very creative, most being straight up science fiction elements, not unlike the late Michael Jackson.
All of this in encapsulated in her albums, known as "The Metropolis Saga", explained here.
While the story of the albums are very loose, usually handwaved away by time traveling shenanigans, but thematically, revolution, resistance and being an "other" (android) are at the core of the EP and 2 albums that make up the saga.
-Also, FUCK YOU OWEN!!!