HOW DO YOU DO, FELLOW HUMANS? I TOTALLY REMEMBERED TO MAKE AN UPDATE POST ANTHROCON!
I WAS AT ANTHROCON!
This was it, my biggest con yet, and it took a while to get there. It was a hectic day, and I was nervous as fuck, but during my set, all that anxiety melted away. Special thanks to ChaoticK9 for having me on his Furry Musicians Panel, and for Pepper Coyote for allowing me and the other musicians some space at his table.
You can watch the full set here!

Now, some general impressions:
1. I don't know what Owen's talking about, Pittsburgh is a perfectly cromulent city. Then again, there was a smoke warning during the weekend, so uh, that might have set some things back.
A lesson I'm learning from these cons is to just go off grounds more and take public transit because A. it's cheaper and B. I get to see more of these locations that are just beautiful.
2. Speaking of seeing more of the city, Anthrocon has a little street fair and while I didn't see much of it, it was nice having this little bit where we can walk outside, get food truck food, and eat outside at the many restaurants that were like "Fuck it, why not?"

3. They had Pawperty Damage in the game room! I don't know how people took it, but WHO CARES?!? It's there!


4. Fursuiters brought out their A Game:

5. I just got to meet up with a shit ton of people I know from online, and several of them were like, actually excited to meet me! Namely a couple members of the crew from the Visual Novel I'm doing VO work for, Chord Progressions.
(that's me, 3rd from the left)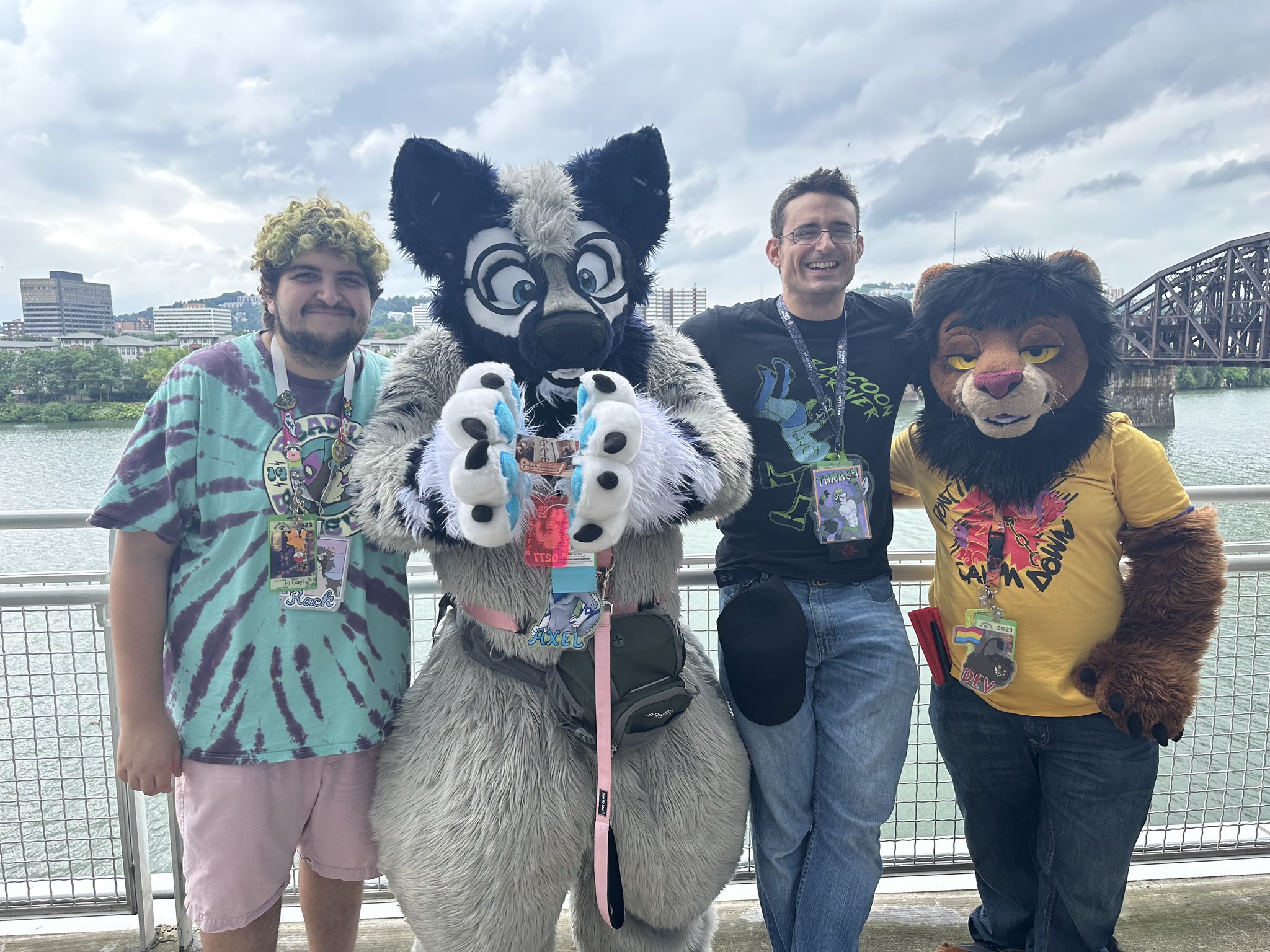 MEGAPLEX 2023: OH GEEZ I'M GONNA BE SO BUSY YOU GUYS
Because, let's break it down:
Furry Musicians: From Hobby To Career
FRIDAY, SEPTEMBER 15th, 2023
3:00 PM-4:30 PM, PANELS 1

Ever wondered what makes music tick? Multiple furry musicians from different backgrounds have come together to share their different approaches to writing songs, marketing their work, making music videos and growing their communities as well as how they are turning creating music from a hobby into a career path. Along with a Q&A session at the end of the panel, each musician will take turns describing their work and their journey to how they became a part-time or full-time musician as well as their plans where they want to take their work in the near future. With a combined total of nearly 1 billion plays across the internet between the panelists, each brings a unique perspective to the topic of being a furry musician online in 2023.
I was on this panel at Anthrocon this year, and it was great answering a lot of people's questions and passing on what we all knew!



Rhythm Bastard: Hardcore Nerdcore Punk Rock
FRIDAY, SEPTEMBER 15th, 2023
8:00 PM-9:00 PM, PANELS 2

Hardcore Nerdcore Punk Rock comes back to Megaplex when Rhythm Bastard cranks it up to 11! You like video games? Comics? Card games? Songs about Thrash Punk playing raccoons? Come on down and open the pit up!
Not a Main Event stage, but hopefully I still have a good set up!



Scratch Game
SATURDAY, SEPTEMBER 16th, 2023
11:00 AM-12:00 PM, TOURNAMENTS

You've heard of Match Game, you've heard of Snatch Game, now get ready for SCRATCH GAME! Contestants try to match answers given by "celebrity" panelists to fill-in-the-blank questions!
I get to pretend to be RuPaul, only without the fracking! I hope I get some people to be panelists who actually know what Match Game is!

Anubis's Bara Corner
SUNDAY, SEPTEMBER 17th, 2023
1:00 AM-2:00 AM, TOURNAMENTS
In this panel Anubis is gonna help you master the art of drawing Bara bodies and how to draw big muscled dudes.
Anubis draws Bara, I am Bara, works out perfectly.
JAM OF THE WEEK: "Rather Be" by Clean Bandit Ft. Jess Glynne
This one's been bouncing around in my head a lot, and I've mentioned before that I'm a sucker for some 90's house music. I rediscovered it after Professor Shyguy covered it during one of his streams and it hit me how much I loved this song.
It's light and uplifting, and it eases you in with violin and soft synths that sound like wind chimes. For those of you looking for the definition of "ear candy", look no further, as "Rather Be" knows when to add a little something to improve the texture: The synth drop in during the repeat of the refrain, the violin becoming more present in the second pre-chorus, and descening piano before the bridge keep this song as an active listen.

The music video, even though the plot is "girl goes crazy from seeing Clean Bandit everywhere" is just so soothing. It's long shots of urban Japanese life and for however hectic it can be, the chaos keeps things simple. It makes me feel nostalgic for back when I lived in New York and trips into the city were a regular occurrence.
One criticism though? Those business guys in the restaurant have NO sense of rhythm.