This week's jam:
Yeah, a cover of my favorite Christmas jam. Not as crunchy as The Kinks, but it still maintains the bouncy fun of the original, and it reminds us that sometimes, that not everyone gets to have an idylic Norman Rockwell Christmas.Normally I throw away my Jank Tank (extra Magic commons and uncommons) at shows, but I've been trying to find a good YMCA or Youth Center to donate them to.
It also reminds us The Kinks fucking rule.
So, here's how the past few days have went:
Thursday!
RECITAL
I'm taking voice lessons, and this is a thing I do. I think I did all right, I think I have some video from that....
Friday!
STAR WARS!
In the event that you haven't seen it yet, it leans very heavily on you remembering that Star Wars: A New Hope exists, but it had interesting characters, and things happened that I cared about.
Saturday and Sunday!
HOLIDAY MATSURI
DEFINITELY up there as one of my favorite cons of the year. A mosh pit broke out, my foot got (a little) messed up, and I went to bed drunk. That's a rock star weekend if I ever saw it.
Bulletpoints:
-LOTS of Undertale cosplay. Mettatons, Sans's and Papyrus's were in abundance, a lot being at least "good". Really, the cosplay here was top notch, like everyone saved up all their energy for one last hurrah.
-
Propeller Anime ran a bunch of interesting panels
. I caught their panel on Nerdy Music and the panel Mamoru Hasoda. I have a LOT to catch up on this holiday season, namely cleaning out my car... They run anime nights at Bikkuri Lounge in Orlando, and plenty of other events at The Geek Easy in Winter Park, FL.
One of the panelists for Nerdy Music,
EyeQ, has an album based off Attack On Titan out now called Walls of Maria
, with all the proceeds going to charity. The man spits every word with nothing less 100% conviction, so I suggest you all go check him out.
-Playing lots of
Boss Monster
. The object of the game is that you are an RPG game style boss, with the intent of luring adventurers in you dungeon to kill them. There's a fair bit of planning involved, as different rooms attract different adventures, and having nobody come to your dungeon early can be an advantage, giving you more time to prepare a badass dungeon, especially as more badass heroes enter town. Also you can screw other players over by making adventurers more powerful, with even one point of health being the difference between survival and defeat.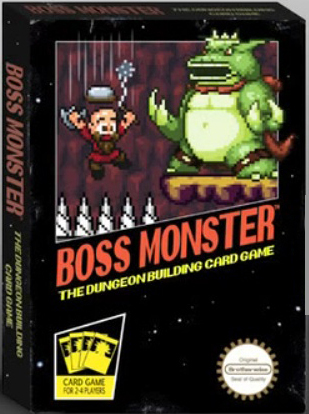 -Running games of Werewolf is a lot more fun than playing them, because you don't have randos wanting to kill you because you have a hairy chest.
-Not seeing the guests.
Update: My brother got shit.