Yes, we're doing all right over here. Thankfully, the storm moved on to Florida's west coast as it developed. We didn't lose power Sunday, but we did briefly overnight. I've got friends that have been without for quite a while but are getting it back now. There seems to be other storms coming my way, but I'm not sure about those yet but at least they won't be a Category 5.
Anyway, on to business:
BUTTONS ON BANDCAMP!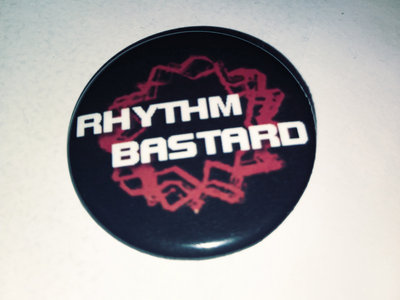 Put one on your clothes, bookbag or anywhere! Preferably somewhere visible so someone will ask "Oh, who's Rhythm Bastard?" and you'll be all like "Oh, Rhythm Bastard? He's this really awesome guy who can take Magic The Gathering or whatever and make a sick ass punk jam out of it" and then your friend will be like "Oh shit, he sounds hot" and you'll be like "Oh yeah, he's totally shredded. I hear he has an 8 pack"
If you've seen me at a recent show, you've seen these. However due to a gross oversight I haven't put them on Bandcamp yet, so here they are!
JAM OF THE WEEK: "Walk The Dinosaur" by Was (Not Was)
What ever assumption you have of Was (Not Was) is dead wrong. Yeah, they do funk music, but as far as subject matter goes, the go from the typical R&B that was pop in the day ("Spy in the House of Love") to more pointed commentary ("Out Come The Freaks") to sad stories ("There's A Street Named After My Dad") to whatever the fuck "I'm In Jail" was.
"Walk The Dinosaur" looks and sounds like a gay old time, to quote the Flintstones. "They're wearing caveman outfits and the set looks like the old times! Eyyy!. It was featured on the soundtrack to The Flintstones and The Super Mario Bros. movie and one of the Ice Ages!
It's about nuclear war.
...Yeah. The front men aren't the actual songwriters, the guitarist and bassist are and they have pretty commited ideals.
Anyway, I'm talking about this because the Magic The Gathering Ixilan Prerelease is this weekend!
Yay! Magic!
I am working on the new song.
THE METRONOMICON TOURNAMENT
THIS FRIDAY, I'm gonna kick some ass on The Metronomicon!
COMING SOON
I found a bunch of footage and I'm looking to make another cosplay video! They got away from me after a while, and they didn't feel as fresh.
I'm also updating a lot of stuff with my Twitch stream
and have put together a Discord, but that's more of an "I Don't Know What I'd Need To Start" kind of thing. Leave suggestions in the comments!